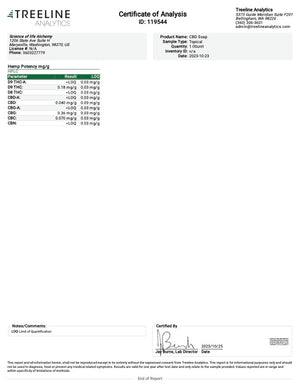 Simple, pure, Lavender soap!
Made with our signature quadruple butter bar recipe. 
A good lavender soap is a staple for any bath and body collection. This one smells just like the real thing! 
Natural and oh-so-gentle, Organic Aloe along with an amazing combination of Luxurious Butters & Oils take this bar of soap right over the top!! 
A Gentle Blend of quality Butters & Oils mixed with Kaolin Clay and Organic Hemp derived CBD extract leave the skin feeling clean, soft and moisturized. 
Each bar is hand cut and trimmed and is approx. 4 oz & contained 200mg of CBD
Ingredients & Saponified oils: Olive, Coconut & Castor along with Mango, Shea, Cocoa and Kokum Butter. Aloe, White Kaolin Clay, Sugar, Citric Acid, Hemp Derived CBD Isolate, mica, fragrance.
SOLA's Handmade Soaps are cured for at least 4 weeks to produce a good, hard, long lasting bar of soap. To make them last even longer, consider using a soap dish with a drain so the bar can dry out between uses, it really does make a difference.
The statements made regarding these products, have not been evaluated by the food and drug administration. The efficacy of these products has not been confirmed by FDA approved research. These products are not intended to diagnose, cure, treat, or prevent any disease.