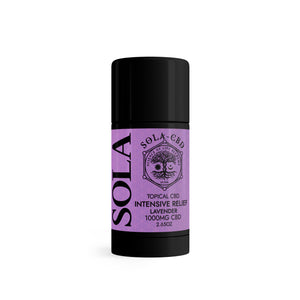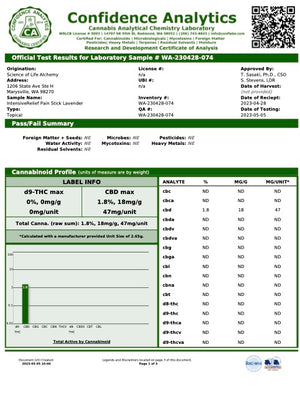 Intensive Relief Lavender Pain Stick 1000mg
Product Description:  Our strongest topical relief in an easy to use soft-solid roll up stick makes this product a convenient and highly effective CBD topical.  There are many natural products out there to fortify your skin's natural moisture barrier, but why not use something that goes a step further to experience the power of CBD?  The addition of CBD to our natural plant-based soft-solid stick really works for severe symptoms.  
Directions: Apply topically to the affected area 2-3 times per day or as needed for relief.  For best results, apply when skin is warm after a bath or shower.  For external use only. Do not use on broken skin.  Discontinue if irritation occurs.


Ingredients: Mango Butter, Kokum Butter, Shea Butter, Coconut Oil, Phyto-Cannabinoid Rich Hemp Powder (CBD), Emulsifying Wax, Beeswax, Stearic Acid, Arnica and Natural Fragrance.
The statements made regarding these products, have not been evaluated by the food and drug administration. The efficacy of these products has not been confirmed by FDA approved research. These products are not intended to diagnose, cure, treat, or prevent any disease.
What a help!
I tore my rotator cuff and bicep, surgery at my age is out of the question as recovery will be over a year. My daughter brought me the lavender pain stick. What an amazing amount of relief it gave me. I've ordered more and use it three to four times daily. Thanks for such a wonderful product!
Love this product!! Love this store! They get your products to you fast.
Lavender relief !!
The lavender pain stick is awesome, helps melt the pain away and keep it away for hours. The scent is pleasant and calming. Thank you for creating such a wonderful product.
Amazing
Best pain relief I've ever used … so glad I found this roll-on …customer for life
This Product May Have Saved My Life
OK guys, so I resisted the whole CBD thing for years, I mean FOR YEARS!
What was the reason you may ask for my stubborn refusal to jump on the national Hemp train?
I am hella allergic to THC…..
I mean not in the traditional "grab me an epi-pen or my throats gonna construct faster than a boa on a rabbit,"
More like…. every time I've ever smoked weed I have either ended up in a police car or the back of an ambulance. I was afraid ( and ignorant) even the .03 percent in CBD would throw me over the edge into the psychotic episodes that occur whenever I get high.
I have since educated myself and realize just how silly I was.
I have several hereditary disorders that effect my joint, bones and muscles that cause me a great deal of pain. I have chosen to suffer for years, becoming more and more of a solitary grumpy old sh*+.
My sister has been using CBD products for the same hereditary issues forever and has been harassing me to try them out. I always say I am going to buy some, and then continue to ignore her.
Wweeellll…. She must have gotten tired of my crap (and continued grumpy absence from family life)
cause a couple months ago ( for a holiday) she gave me this pain stick.
OK REVIEW TIME:
THIS PAIN STICK HAS CHANGED MY LIFE !!
First off, I have 2 pinched nerves on the bottom right of my lower lumbar vertebrae and on top of my sacrum. I also have degenerative disc and joint disorder and fiber myalgia with particular issues on the left side of my neck where a large bundle of nerves that basically control many of my bodies internal organs are compressed between between C-5 and C-6, aaand… my joint and disk disorder causes frequent AC separation.
I'm in pain K? A LOT of PAIN… EVERY freakin day..,
This thing you notice first about this stick is, you put it on and literally 10 seconds later there is relief, I mean, TOTAL relief. Even when I was taking an insane amount of opioids over 20 years ago, I NEVER got this level of relief! And it always took at least an hour of nauseating horrific pain to get the relief I did get. They made me stupid and tired and sleepy.
This pain stick does NONE of those things! I have absolutely NO psychological changes at all.
WAIT! THAT IS NOT TRUE!!
I am HAPPY!
I am so freakin HAPPY!
And I am productive!
And because I am not in pain for the first time in forever,
I am moving my body,
which in turn is making me stronger,
which in turn is healing me!!!
Thank you SOLA!
You know, you and my sister may actually have saved my life? I was really hitting bottom before I found your products. I mean the REAL bottom. I am now on a daily tincture and using the pain stick. I can honestly say I am no longer a grumpy old hermit.
I am now blossoming into someone who wants to live for the first time in a long long time.
Thank you!