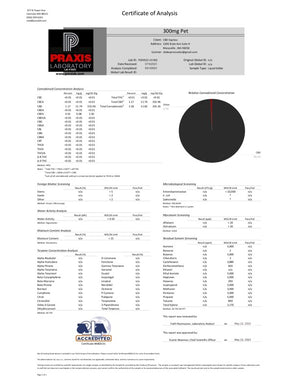 Wild Caught Salmon Cat Tincture
Like humans and dogs, cats also have an endocannabinoid system.  Because of this, your cat can greatly benefit from taking CBD.  Omega 3 and 6 fatty acids contained in our wild caught salmon CBD oil promotes you pet's optimum health.

Wild Salmon Oil
300 mg CBD
1oz/30ml
Serving Size: 1ml
Servings per container: 30
Directions:  Add 1ml to your cat's food daily.  May also be used for dogs.
Ingredients: Wild caught salmon oil & phyto-rich hemp CBD extract
Storage: Protect from heat, light & moisture.  Refrigerate after opening.
IEPA & DHA Omega 3 Fatty Acids
100% Natural
Sustainably Sourced
Wild Alaskan Salmon
Made in the USA
Made with organically grown hemp
Amazing results!
I have an 18 year old cat who barely gimps around. She lays and sleeps all day; until I started using this tincture! She is so bright and engaging with us. She sits with the family now, wants to sleep on my bed, etc. All I want is for to be comfortable and this product has made that happen. Thank you!!!!
Amazing, Amazing!
This tincture worked so well, I will definitely be subscribing to it!