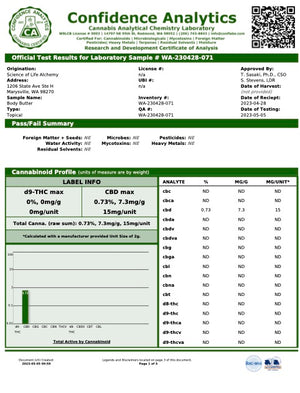 Regular price
$29.99
Sale price
$29.99
This rich, luxurious body butter hydrates and moisturizes all skin types.  Nourish and protect your skin with the powerful relief of Hemp CBD. 
The skin is the largest organ of the body and has more CBD receptors than any other organ. This makes topical absorption of CBD a highly effective way to experience the amazing benefits it can offer.  Formulated from plant ingredients without synthetic fragrance or mineral oil products.  

Directions: Apply to clean, dry skin every 3-4 hours or as needed. Do not use on broken skin.  Avoid contact with eyes.
Ingredients: Aqua (Water), Helianthus Annuus (Sunflower Oil), Vegetable Glycerin, Butyrospermum Parkii (Shea Butter), Myristyl Mystrate, Cetyl Stearyl Alcohol, Glyceryl Stearate, Hemp CBD Isolate, Stearic Acid, Phenoxyethanol, Ethylhexylglycerin
Made in the USA
THC Free
Vegan

Botanical ingredients
Deeply moisturizing
Great for very dry itchy skin
No parabins, artifical colors or fragrances
Cruelty free
The statements made regarding these products, have not been evaluated by the food and drug administration. The efficacy of these products has not been confirmed by FDA approved research. These products are not intended to diagnose, cure, treat, or prevent any disease.
Wonderful
Thank you! This cream works! I have arthritis and this cream does help!
Immense, rapid pain relief
I am so grateful that I meandered into the Lynnwood shop one day and decided to take a chance on this product. I got the smaller size (500mg/2 oz) because I didn't expect much but figured I wouldn't be out that much $ that way if it didn't work. Well, it's been AMAZING and I'll definitely be repurchasing the 1000mg/4 oz size. I have sciatica plus a herniated disc in my back, and get pain in my lower back that radiates down my right leg and causes spasms and extreme discomfort. I use a percussive massage gun and then apply a layer of this, and 5 minutes later, the pain and spasms are 90-95% gone. Such a godsend. My husband also pulled a muscle in his neck tonight and tried it for the first time, and said he could see now why I've been raving about it. Thank you, Sola, for a great product!