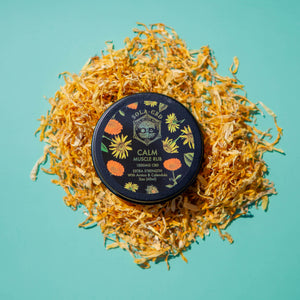 2oz/1000mg 
Extra Strength with Arnica & Calendula
You will be amazed by this hydrating wonder balm!  This long-lasting muscle rub with balanced essential oils and a non-greasy silken finish is perfect after a workout, for a massage, or for any dry skin that needs extra love.  Made with moisturizing plant-based oils and a revitalizing scent profile.
Product Highlights:
Grapeseed Oil base brings antioxidants and provides long-lasting moisture to skin, combined with Coconut Oil for fast absorption.

Beeswax acts as a humectant, helping bring water to the skin and acting as a barrier

Breathe deeply and let the magic of essential oils do their trick! Perfect for use during a massage or after a workout. 
Superstar Ingredients:
Grapeseed & Coconut Oils

Peppermint, Eucalyptus, Lavender, and Chamomile Essential Oils

CBD, Arnica & Calendula
Ingredients:  Grapeseed Oil (Vitis Vinifera), Yellow Beeswax, Organic Coconut Oil (Cocos Nucifera), Peppermint Oil (Mentha Piperita), Eucalyptus Leaf Oil (Eucalyptus Globulus), Rosemary Leaf Oil (Rosmarinus Officinalis), Sweet Basil Oil (Ocimum Basilicum), Spearmint Oil (Mentha Spicata), Lavender Flower Oil (Lavandula Angustifolia), Hemp CBD Extract, Calendula (Calendula Officinalis) Flower, Ginger Root Oil (Zingiber Officinale), Ravensara Oil (Ravensara Aromatica), Cinnamon Leaf Oil (Cinnamomum Zeylanicum), Lemongrass Oil (Cymbopogon Flexuosus), Arnica Montana Extract, Helichrysum Oil (Helichrysum Italicum), Roman Chamomile Flower Oil (Anthemis Nobilis)
Warnings:  Not for internal consumption. Pregnant or lactating people consult a doctor prior to use. Discontinue if irritation occurs.  Store in a cool dry place.
Made in the USA 

THC Free
Paraben Free