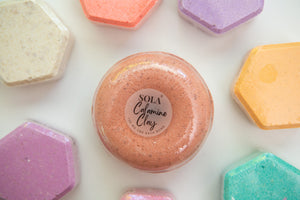 CBD Doughnut Bath Bomb (50mg)
Slip into bath time bliss with this 50mg CBD.  Fragrant and fizzy, this bath bomb soothes aches and soreness while hydrating and revitalizing your skin with incredible plant-based oils.  
Directions: Fill bath to desired depth.  Unwrap bath bomb and drop into bath and allow to dissolve. Soak for at least 20 minutes form full effect.
Ingredients: Baking Soda, Citric Acid, Cream of Tartar, Corn Starch, Kaolin Clay, SLSA, Buttermilk Powder, PS80, Hemp CBD Oil. Witch Hazel, Fragrance