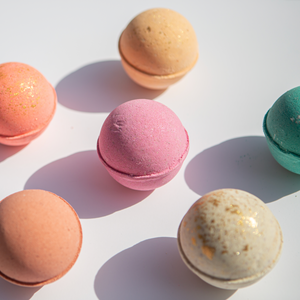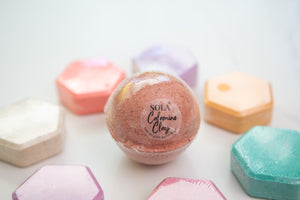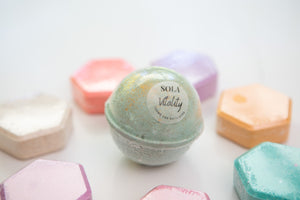 Each one of our bath bombs now have 100mg of full-spectrum CBD for a bath experience that will leave you feeling relaxed, hydrated and mellow. Made with grapeseed, olive and Hemp CBD oil concentrates to keep the beneficial ingredients in contact with your skin as long as possible while providing nourishing moisture. 
Zen -  With notes of Bergamot, Lemon, Cucumber, Violet, and Jasmine, this complex scent will appease your tense muscles and soothe away all your aches and pains.
Black Raspberry Vanilla – Your cares will melt away as you indulge in the rich, warm scent of berries and vanilla.  Decompress in a soak with this bath bomb and experience the benefits of self-care.
Lavender – The aromatherapeutic effects of lavender in this beautiful bath bomb calm, relax and soothe the senses.  Great for unwinding at the end of a stressful day.
Mimosa – Bright and uplifting notes of citrus to elevate your mood and stimulate your senses.  Treat yourself with a soak to melt your cares away.  Almost as good as getting a massage!
Rose Ylang Ylang & Vanilla -  Warm, sensual, and romantic- this beautifully fragranced bath bomb elevates your mood as it promotes hydration and relaxation. 
Bliss - Brighten your day with this blissful aroma therapeutic blend designed to elevate your mood and ease tension.  Experience Bliss in a bath!
Oatmeal Milk & Honey - Made with colloidal oats and colorant free for sensitive skin.  A truly relaxing and calming experience!
Ingredients: Sodium Bicarbonate, Pure Citric Acid, Grapeseed Oil, Olive Oil, Witch Hazel, Hemp CBD Extract, PS80, Mica Pigments, Fragrance Oil, Dried Botanicals 
Pain Free
I buy these every time I go to the mall, they are so great for aches and pains. Used it for when my back went out and the next day I was in significantly less pain.
Cbd bath bombs
So relaxing, smell amazing, and feel so silky
So far I have loved everything I have tried!
Bath Bombs
They help with the pain tremendously, skin is soft and silky. Would recommend to everyone.