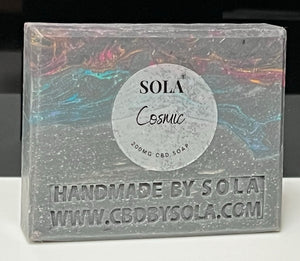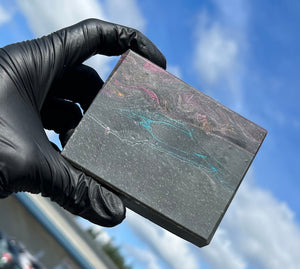 This gender neutral fragrance blend is designed for those who are looking for natural anti bacterial cleansing without the harsh detergents. 
With the gentle exfoliating power of the Dead Sea Clay, combined with the antibacterial properties of Activated Charcoal, this Cosmic Soap smells OUT OF THIS WORRRLD, while keeping you grounded.
Each bar is hand cut and trimmed, approx. 5.5oz
This listing is for one bar of soap.
Saponified Oils: 
Olive Oil,
Coconut Oil, Avocado Oil, Hemp Seed Oil, 
Shea Butter,
 Cacao Seed Butter, 
Castor Oil and 
Sweet Almond Oil combined with Avocado Puree, Dead Sea Clay, Kaolin Clay, Activated Charcoal, Fragrance Oil Blend, 
Hemp derived CBD Isolate,
  M
ica Pigment and Bio Degradable Glitter.
Our handmade, thoughtfully crafted soaps are made using natural ingredients in small batches to ensure quality and purity as people around the world have done for hundreds of years!
SOLA's handmade soaps are cured for at least 4 weeks to produce a good, hard, long lasting bar of soap. To make then last longer, please use a draining soap dish so the bar can dry out between uses, it really does make a difference!