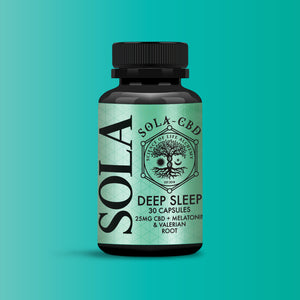 This Deep Sleep capsule is our most potent sleep formula!  We combine CBD with melatonin and valerian root for a powerful sleep remedy that really works!  Many people struggle with intrusive thoughts that start racing when your head hits the pillow.  These racing thoughts can keep you from getting  the sleep you need to be your best.  
Valerian Root is a powerful herb that has been used for centuries to help calm intrusive thoughts and promote drowsiness and sleepiness.  Melatonin helps regulate the wake/sleep cycle while CBD calms the mind and allows you to get comfortable and fall asleep quickly. 
Directions:  Take one capsule 30-45 minutes before bed.
Ingredients: Coconut Oil, Hemp CBD Isolate, Hemp CBD Distillate, Valerian Root, Melatonin.  Capsule Shell: Vegetable Cellulose
Dietary Supplement 
Supplement Facts: 
Suggested serving size: 1 capsule 
Servings per bottle: 30 
Supplement Facts: Organic Coconut Oil: .5g (+), Organic Broad-Spectrum Hemp-derived Cannabidiol (CBD): 25mg (+), Valerian Root 10mg (+), Melatonin: 5mg (+) 
Sugars: 0mg 0% 
% daily value is based on a 2000 calorie diet. (+) daily value not established 
Warning: These statements have not been evaluated by the Food and Drug Administration.  This product is not intended to diagnose, treat, cure, or prevent any disease. Keep out of reach of children.  Consult physician.
Better Sleep
My sleep has never been good but recently it took a turn for the worse. Awake until 3-4 in the morning, waking up at 7 am, naps in the afternoon. I just had to try to get back on track. The deep sleep pills help me fall asleep and not toss and turn as much. It hasn't worked 100% of the time but I'm sure there are other issues at play. Over all I would recommend Deep Sleep to help you fall asleep faster and stay asleep better.
They work like I hoped they would.
Amazing
These products are awesome and delivery was so fast. Gives me the most interesting dreams as well!