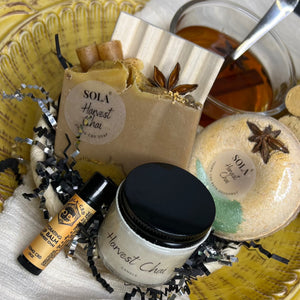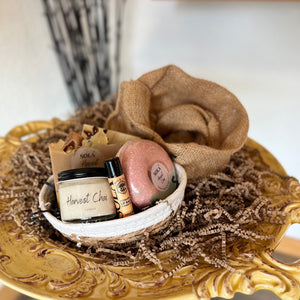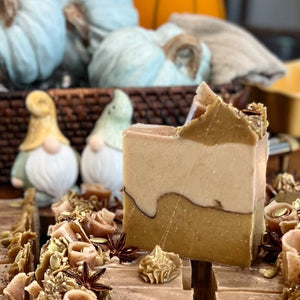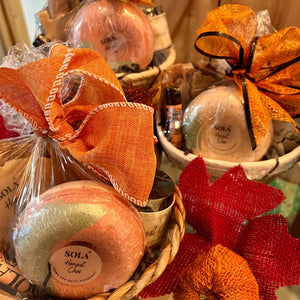 Harvest Chai Seasonal CBD Gift Basket
IT'S HERE! Our highly anticipated seasonal gift basket, a perfect treat for yourself or your loved ones. SOLA's debut collection features a delightful assortment of handcrafted products, all infused with CBD and the warm, inviting fragrance of Harvest Chai.
Inside this charming gift basket, you'll find:
*A luxurious bar of handmade soap, meticulously crafted to bring the essence of autumn into your bathing routine. The rich Harvest Chai fragrance will envelop you as you indulge in a blissful lather, leaving your skin feeling nourished and moisturized.
*To enhance your bathing experience, we've included a generously sized 7-ounce bath bomb donut, also in the captivating Harvest Chai scent. Immerse yourself in a fragrant oasis as the bath bomb fizzes and releases its soothing ingredients, transforming your bath into a pampering retreat.
*With every gift basket, we've included a luscious lip balm, perfect for moisturizing and protecting your lips during the colder months. The Harvest Chai scent adds a delightful touch of autumn to your daily routine, leaving your lips soft, supple, and ready to embrace the season.
*And last but not least, an adorable candle completes the ensemble. Light it up and let the comforting aroma of Harvest Chai fill your space, creating a cozy atmosphere that truly captures the spirit of fall. All these beautifully scented products come together in a cute little basket, making it an ideal gift for yourself or someone special. Treat yourself to a well-deserved pampering session or delight your loved ones with this thoughtfully curated seasonal gift basket.
Experience the joy of Harvest Chai and embrace the enchantment of autumn.