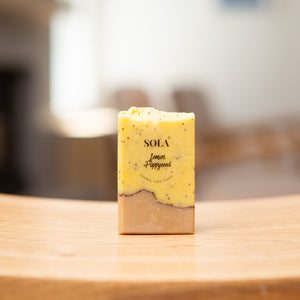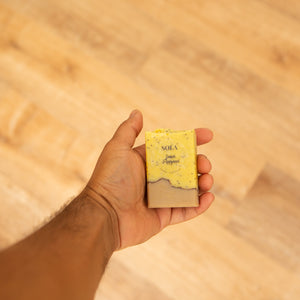 A classic combination lightly scented with Lavender and Lemon Essential Oils.
Loaded with skin nourishing ingredients like Mango, Shea, Kokum and Cocoa Butters along with real carrot purée for a rich, creamy, stable lather.
Each bar is hand cut and trimmed and is approx. 4.5 oz. 
Ingredients: Saponified oils: Olive, Coconut, Castor, Mango, Shea, Kokum and Cocoa butters. W/ carrot purée , Alkanet Root powder, essential oils.
SOLA's handmade soaps are cured for at least 4 weeks to produce a good, hard, long lasting bar of soap. To make them last even longer, please use a draining soap dish so the bar can dry out between uses. It really does make a difference.